Holly Bellebuono
Empowerment Facilitator
Book Holly to speak
Email Holly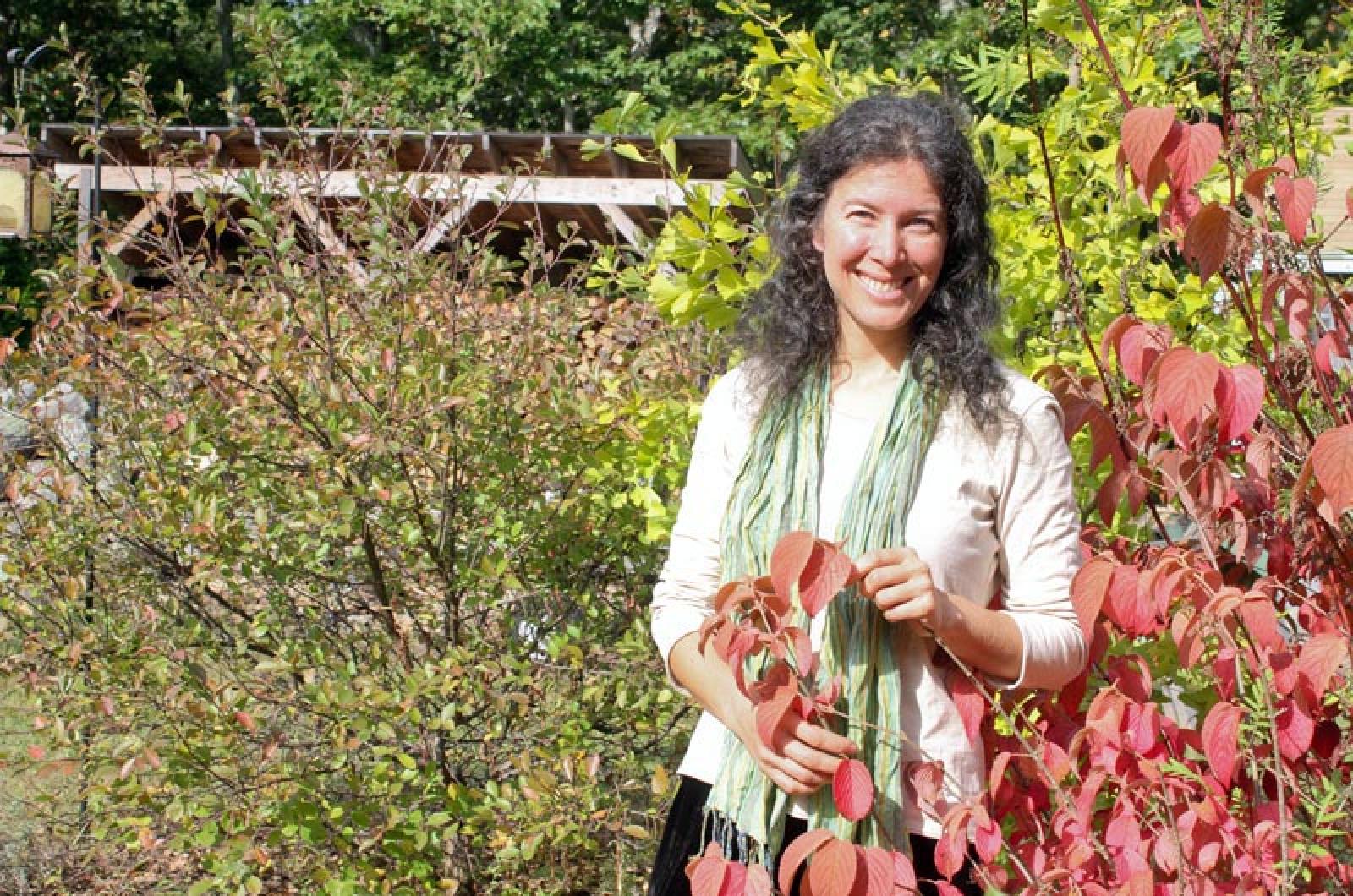 Holly's book Women Healers of the World has been named Book of the Year by The International Herb Association!

Holly has been awarded two Business Owner of the Year Awards:
Cape Cod SCORE's Business Owner of the Year 2015

M.V. Women's Network Business Owner of the Year 2009
Award-winning herbalist, author, and speaker Holly Bellebuono facilitates vivid lectures, workshops, and retreats on personal and professional expansion.
Holly puts the "mind" in "body-mind-and-spirit" with her empowering and stimulating lectures on life rhythms, self-awareness, growth as an individual, and professional advancement for women. She is well-known for her diligent research and documentation of world healing traditions culminating in her acclaimed book Women Healers of the World, and her popular lectures combining story-telling, research, and motivation have inspired audiences around the country for more than 20 years.
Renowned for her warm and personable style, Holly speaks for conferences, universities, corporations, women's centers, arboreta, libraries, botanical gardens, schools, and retreat centers. Her published works include Women Healers of the World (SkyHorse 2014), The Essential Herbal for Natural Health (Shambhala 2012), The Authentic Herbal Healer (Balboa 2012), How to Use Herbs for Natural Health (audio CD collection 2013), Positive Self Empowerment Strategies (2015), A Goal-Setting Guide for Open-Minded Business Owners (2015), and The Healing Kitchen (Shambhala Spring 2016), plus articles for Taproot Magazine, Sage Woman Magazine, Juno Magazine, Martha's Vineyard Magazine, and more.

Holly is the director of The Bellebuono School of Herbal Medicine and the founder of Vineyard Herbs Teas & Apothecary. She lives with her husband and two children on Martha's Vineyard.
NEW!
E-BOOKS and WORKBOOKS! Holly's popular brainstorming workbooks on self-empowerment and business success help you zero in on what you want to accomplish and see it through to fulfillment. 55 pages of tips, trainings, inspiration and specific step-by-step methods for empowering the self or the entrepreneur to create goals and realize results. Available as printed workbooks or e-books.
2015 Lectures and Events:
In GEORGIA! "Women Healers of the World" at the Caboose in Rutledge, Monday February 23, 7-9pm. $10, please register at abellebuono@gmail.com.
In SAN DIEGO! "Women Healers of the World" at the Self-Heal Herb School with John Finch. Thursday April 2, 7-9pm. $35. Register here.
In MASSACHUSETTS! "Women Healers of the World" at the Herbal Community of Central Mass, Sterling MA, April 12, 2pm.

In MASSACHUSETTS! Fun Apothecary Workshop, handcrafting with scents and flavors of herbs. ZuZu's Healing Arts, Melrose MA, Saturday April 25, 1-3pm.

In MASSACHUSETTS! The International Herb Symposium, June 12-14. Visit Holly's booth for her books, CDs, and delicious teas.
On MARTHA'S VINEYARD! 2-Week Herbal Training Intensive, June 15-26, Martha's Vineyard Island.

On MARTHA'S VINEYARD: Salve Making Workshop at Polly Hill Arboretum, July 14, 1-3pm.

On MARTHA'S VINEYARD: Salve Making Workshop at Polly Hill Arboretum, Aug 11, 1-3pm
On Martha's Vineyard: Tea Blending Workshop with Sally Taylor's Consensus, Friday August 21, 9-11am, $55 (register with Sally)

In NEW HAMPSHIRE! The New England Women's Herbal Conference, Aug 28-30.

Holly's lectures at the WHC:
Herbs for Neuro-Diseases
(Wo)Manifest Your Business
Healers & Poisoners
On MARTHA'S VINEYARD: Women Healers of the World Slide Lecture & Presentation, Polly Hill Arboretum, Wednesday September 2, 7:30.
Near VANCOUVER! Women's Soulful Apothecary 5-Day Retreat, Hollyhock Retreat Center, September 30-October 4 2015, Cortes Island, British Colombia

In MASSACHUSETTS: From Abyss to Epiphany. Lecture at the Natural Living Expo, Marlborough MA, Saturday November 14, 2:30pm. Available to attendees of the Expo.

In MASSACHUSETTS: Women Healers of the World presentation, New England Unit of the Herb Society of America, the Putnam Room at Elm Bank (Mass Horticultural Center), Tuesday November 17, 10:30am. Please register with the Herb Society.

2016 2-Week Herbal Intensive June 13-24 2016. Registration is now open!
Holly's acclaimed book
Women Healers of the World:
The Traditions, History & Geography of Herbal Medicine
(SkyHorse Publishers, hardcover, $24.95)
Order your book here
---bookstores, arboreta, shops: please contact SkyHorse to order---
Or purchase through your normal distributors including
Perseus, Ingram, Baker & Taylor, etc.
MARTHA'S VINEYARD TEAS™
Our delicious Vineyard favorites now in new paper tea canisters--with sachets!!!
In 2 wholesale forms:
For Stores: appealing canisters with 16 sachets
For Restaurants: Bulk Pouches of 800
T-Shirt 25% Off Sale!
Our whimsical "Teacup Tree T-Shirts" feature a playful design with colorful dangling teacups, herbie teabags, and colorful flowers under a bright blue sky. Designed by Vineyard artist Tara Reynolds. On sale while supplies last.
GRACE YOUR FACE Care Line
Our wonderful face care line, Grace Your Face, is now ready! We've had such a great time designing and testing these incredible Facial Cleansers, Clay Masks, Hydrating Serum, Toning Spritzer and Bath Salts!
As always, we use premium (and even edible!) ingredients and nothing is tested on animals; many of the new Grace Your Face care products are even vegan! go here to get more details on these truly natural and nourishing products.
About Us:
We are a family-operated, award-winning professional apothecary supplying top-quality herbal medicines and body care products.
We train herbalists, providing apprenticeships, internships, and certification programs.
We teach and lecture nationally, and we lead fun educational workshops, retreats, and learning opportunities for corporations, nursing programs, herbal conferences, libraries, schools, etc.
Herbalist and author Holly Bellebuono speaks and teaches about natural health, herbal medicine, self-empowerment, and women's empowerment.
♦
What makes us different? You can feel good purchasing from our family-operated business because:
We are NOT a second-party packager!
At Vineyard Herbs we painstakingly plant, cultivate, harvest and process the vast majority of the plants we use in our salves, syrups, liniments, vinegars, tinctures, glycerites, and some of the plants we blend in our original teas. We craft most of our products FROM SCRATCH using time-tested original formulas created by certified and traditional herbalist Holly Bellebuono. You can trust the Vineyard Herbs label to be premium-quality, family-grown, and unique.
Every product gets Holly's seal of approval.
We've spent more than 18 years learning what you want from your natural medicines: every single product is hand-made, hand-inspected, batched and recorded for quality assurance.
We use NOFA Certified Organic and wild-harvested ingredients whenever possible.
We grow and harvest most of our own herbs in our apothecary gardens and in the pristine fields and woodlands of our island, but those we can't are sourced from reputable, fair-trade growers and from companies who sell locally.
We practice what we preach.
We train apprentices and interns in the art and science of herbal medicine. We are members of United Plant Savers, Northeast Herbal Association, and the American Herbalist Guild.
We keep our packaging to a minimum.
We do not engage in the wasteful practice of using excess boxes to contain a jar, or boxes to contain a bag. We use minimal packaging and we re-use shipping materials when we ship to you. (In fact, we have only 1 product that uses an outside box to contain a jar--the Grace Your Face Hydrating Serum. Compare this to companies that use cereal boxes, pasta boxes, salt boxes, lotion boxes, and other extraneous packaging materials to hold a bag or jar. We try our best to use less!)
We are more than just an apothecary.
Author and instructor Holly Bellebuono teaches nationally and engages in community partnerships that educate, inspire and empower others. Her books are powerful resources for herbalists and healing arts practitioners. She also offers consultations, workshops and classes where you meet others who are also seeking a more holistic approach to medicine and a deeper connection with their community.
Holly trains others to continue the work.
Holly trains others and grants two types of herbal certification. She directs one of the most unique curricula in natural health: The Heritage & Healing Herbal Studies Program and confers Certificates in Herbal Formulary as well as a Community Herbalist Certification. Expand your expertise with confidence. For individuals and groups, Holly teaches harvesting, processing, good manufacturing practices, entrepreneurial leadership, community herbalism, anatomy and physiology, pharmacology, natural and women's health, positive self-empowerment, and more.
Our mission is to provide highest-quality herbal medicines, teas, and body care products while educating about and advocating for natural health and women's empowerment. Thank you for supporting this family business!
► Holly's book, The Authentic Herbal Healer: The Complete Guide to Herbal Formulary & Plant-Inspired Medicine for Every Body System is a wonderful companion to The Essential Herbal for Natural Health and is a complete beginner's introduction to herbal medicine, how herbs work in the body, how to combine herbs, and the various categories of herbal actions for all the major body systems.
Whereas The Essential Herbal is a great kitchen-craft guide to making all sorts of herbal remedies and understanding the Essential Thirteen herbs, the new book -- The Authentic Herbal Healer -- is a slightly more advanced exploration of herbs from all over the world, with both traditional and clinical insights into their use and chemistry. The new book also contains a detailed materia medica with more than 130 herbs, a thorough glossary, and guidelines for dozens of edible wild plants.
Click here to purchase your copy!
The Essential Herbal for Natural Health
Hailed as "an inspiring and powerful treatise, " "warm and open" and "fascinating."
I frequently hear that this book is now the one-and-only herbal medicine-making book people keep on their shelves.
It's written for the passionate spirit who wants to delve into a few herbs and get to know them intimately. The 13 Essential Herbs I introduce here are those that I turn to again and again for their protective, nourishing and strengthening qualities, and these are the familiar herbs we all have access to. Chock-FULL of recipes that can easily be made in the kitchen, from herbs easily found in the garden or backyard: tinctures, infusions, decoctions, syrups, honeys, vinegars, oxymels, salves, oils, salts, powders, and so much more.
Check out the Feb-March 2013 print issue of parenting magazine KIWI!
Holly was interviewed for an article about natural and herbal remedies for teething babies. Herbs are a reliable, safe, and often enjoyable way to ease baby's teething pain.
How to Use Herbs for Natural Health Audio CD Collection
Discover practical methods for using herbs for five different body systems with this information-packed audio CD collection. Created for herbalists, midwives, alternative healers, individuals, and families, these easy-to-listen-to CDs are filled with advice on specific herbs for specific systems of the body.
FREE LABELS for your home-made remedies
You're warmly invited to download these labels from artist and illustrator Geninne Zlatkis from the book The Essential Herbal for Natural Health. Print them on label paper and enjoy using them on your bottles of salves, tinctures, teas, and more.
SPEAKING
Book Holly to for your next event; her engaging profile of women healers from around the world is based on her new book WOMEN HEALERS OF THE WORLD.
Clips from some of Holly's interviews:
Check out our latest MVTV Interview here!
Contact Us: P.O. Box 913 West Tisbury MA 02575 USA 508.687.9600 email us
and of course...we ship everything here on our website daily!